Maybe you've inherited a heritage home from a loved one? Or, you've bought a listed building with grand designs in mind? Whatever your situation, turning traditional structures into happy homes requires a different approach to design and build.
But what are listed buildings and heritage homes, why are they important, and how do they impact interior design and build projects? Read on to find out.
What is a listed building?
It's simpler than you think. Listing a building celebrates its architectural and historic interest whilst protecting it for future generations. Listed buildings are officially recognised structures protected by the government due to their importance in preserving our collective heritage.
Ranging from grand mansions and cathedrals to humble cottages and industrial sites, what sets them apart is their exceptional value in terms of architectural design, cultural identity, and history. If you need some visual cues, simply take a walk around our local area of Birmingham:
Birmingham Town Hall
St Paul's Church
The Exchange at 17 & 19 Newhall Street
What's the significance of earning listed status?
A building being listed is like an actor receiving a lifetime achievement award at the Oscars. It's a formal recognition by heritage services like Historic England, which includes selected buildings on the National Heritage List for England.
The significance of listed status lies in the legal protection it offers to the building, ensuring its preserved for future generations. When a building is listed, it has certain restrictions and regulations regarding alterations, renovations, and demolitions. By doing this, the building's original character is safeguarded. And being listed prevents modifications that could compromise its historical or architectural integrity.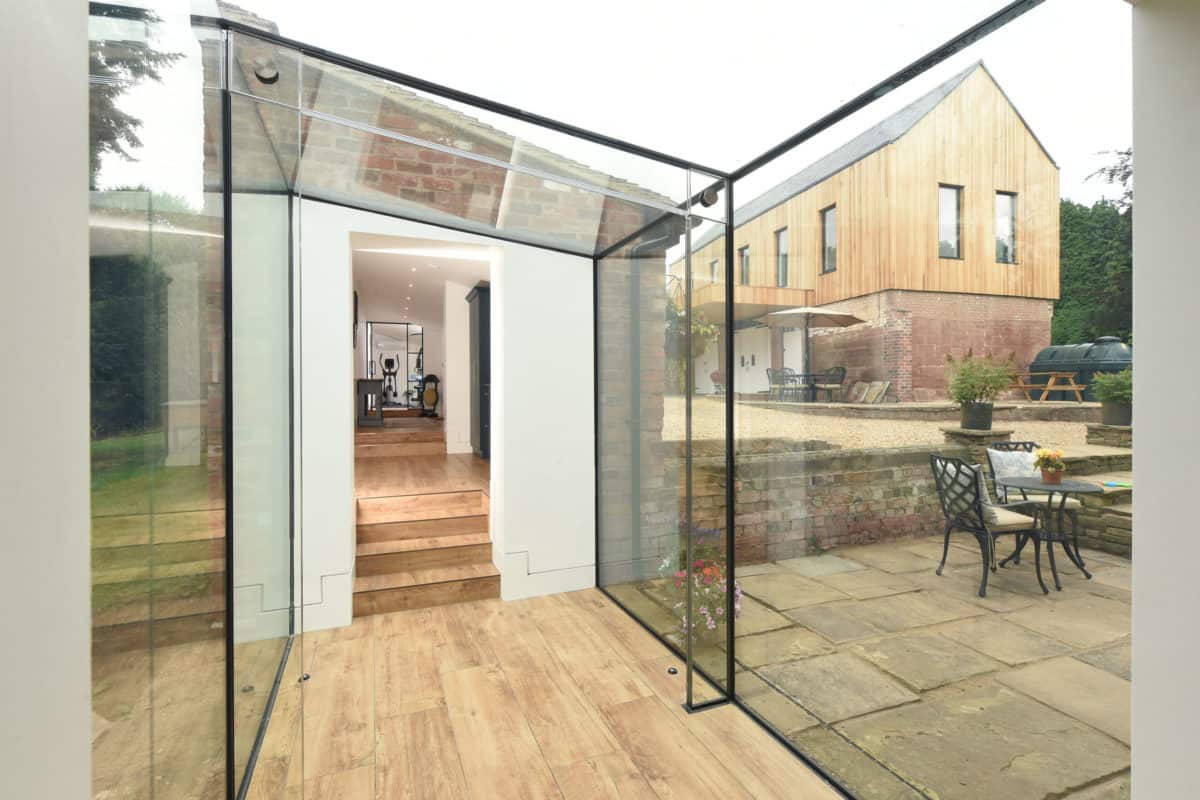 The significance of being listed extends beyond the building itself. Listed buildings contribute to the collective identity and cultural fabric of the community it's in. Providing a tangible connection to the past, they remind us of our craftsmanship, history, and traditions. Often, listed buildings become landmarks and tourist attractions, contributing to local economies.
Preserving listed buildings allows us to appreciate and learn from the architectural styles, construction techniques, and social contexts of different eras. However, like any list, there are different levels of listed status depending on their significance.
Explained: The Three Grades of Listed Buildings
Listed building grades help us differentiate the levels of significance and protection afforded to listed buildings. The grading system helps heritage authorities and governments prioritise their efforts for safeguarding these landmarks. Whilst Grade I holds the highest level of protection, all listed buildings are recognised as valuable contributions to the rich tapestry of our built heritage.
To better understand each grade and what it means, keep reading for a brief overview of each one:
Grade I: Deemed to have outstanding architectural or historic importance, these structures require the highest level of protection. Grade I listed buildings are often iconic landmarks and encompass grand historical cathedrals, estates, and palaces. Buckingham Palace, the Houses of Parliament and Tower Bridge are all examples of Grade I listed buildings.
Grade II*: Grade II* buildings should still have significant architectural or historic value, and typically feature distinctive architectural elements, unique designs, or historical associations. They usually contribute significantly to their local and regional heritage. Battersea Power Station, Liverpool Metropolitan Cathedral, and Middlesbrough Transporter Bridge are all examples of Grade II* listed buildings.
Grade II: The most common grade, Grade II buildings include a vast range of buildings possessing special architectural or historic significance at a local and regional level. Buildings in this grade are usually structures of special interest, warranting general preservation. The Birmingham Back to Backs, BT Tower, and Southend-on-Sea's Kursaal are all examples of Grade II listed buildings.

What's the criteria for listed buildings?
Whilst there's no end of reasons why a building can be listed, Historic England and the Secretary of State for Culture, Media, and Sport assess buildings on 8 key aspects:
Age and Authenticity: Offering a glimpse into the past, the older the building, the likelier it is to be listed. Additionally, the extent to which a building retains its original fabric, materials, and design is a crucial factor. The closer a building is to its original state, the higher its authenticity.
Architectural Merit: Buildings exhibiting exceptional architectural design or innovation are considered for listing. Unique features and influential architectural movements contribute to this category.
Condition and Vulnerability: The condition of a building and its vulnerability to decay or damage is taken into account. If a building is at risk of significant deterioration, it's usually prioritised for listing to ensure its preservation.
Cultural Significance: Buildings associated with cultural practices or social customs that reflect its community's identity are considered for listing.
Group Value: Historic streets, squares, and neighbourhoods may have their listing assessed in the context of a group, as long as the collective value between buildings contributes to their significance.
Historical Significance: Buildings associated with significant historical events, people, or periods are prime candidates for listing. This often stems from a building's role in shaping local, national, and international history.
Public Interest: The level of public interest and communal value associated with a building is considered, with public accessibility and appreciation both factors.
Rarity and Intactness: The rarity of a building, in terms of surviving examples or styles, increases its chances of being listed. And its degree of intactness is also evaluated, so buildings with minimal alterations hold greater significance.
Whilst individual factors play a role, the overall significance and contribution of a building to our collective heritage are pivotal in the listing process. The aim is to protect and preserve buildings that hold cultural, historical, and architectural value. But that does mean there's implications for any interior design and build projects taking place on listed buildings.
What impact does the listed status have on interior design?
Listed buildings present unique challenges and opportunities for interior designers. As these structures often come with specific restrictions, we're tasked with finding solutions that respect the building's heritage whilst meeting the functional and aesthetic needs of modern living.
Any significant alterations or additions to the interior of a listed building require Listed Building Consent. This includes any changes to ceilings, floors, and walls that could impact the historic fabric of the building. Original features like decorative plasterwork or timber panelling are protected, so their removal or alteration usually needs special permission, too.
On some projects, the use of certain materials like metalwork, stone, or wood can face certain restrictions. Additionally, joinery elements such as doors, staircases, and windows are typically protected. This means any repairs or replacements need to be sympathetic to the original design. Listed status can also affect paint and colour schemes, lighting fixtures, accessibility considerations and plumbing installations.
Striking a balance between preservation and modernisation
All these constraints might seem limiting, but they actually inspire our creativity and innovation in interior design projects.
Striking a balance between preservation and modernisation is essential to any project. Retaining a building's historic elements, such as intricate mouldings and original flooring, is vital. At the same time, introducing modern amenities and technology is necessary, especially when transforming a listed building from a house to a home. Enhancing comfort and functionality without compromising its preservation is always our top task.
Achieving this balance requires a thoughtful approach, where contemporary interior design elements seamlessly integrate with the building's historic context.
Why is it important to respect the original features of a listed building?
The whole aim of listing a building is to preserve its original features and character for future generations. So, respecting these features in interior design is important.
Retaining and showcasing a building's unique architectural details and craftsmanship not only honours its heritage but creates a sense of authenticity and timelessness.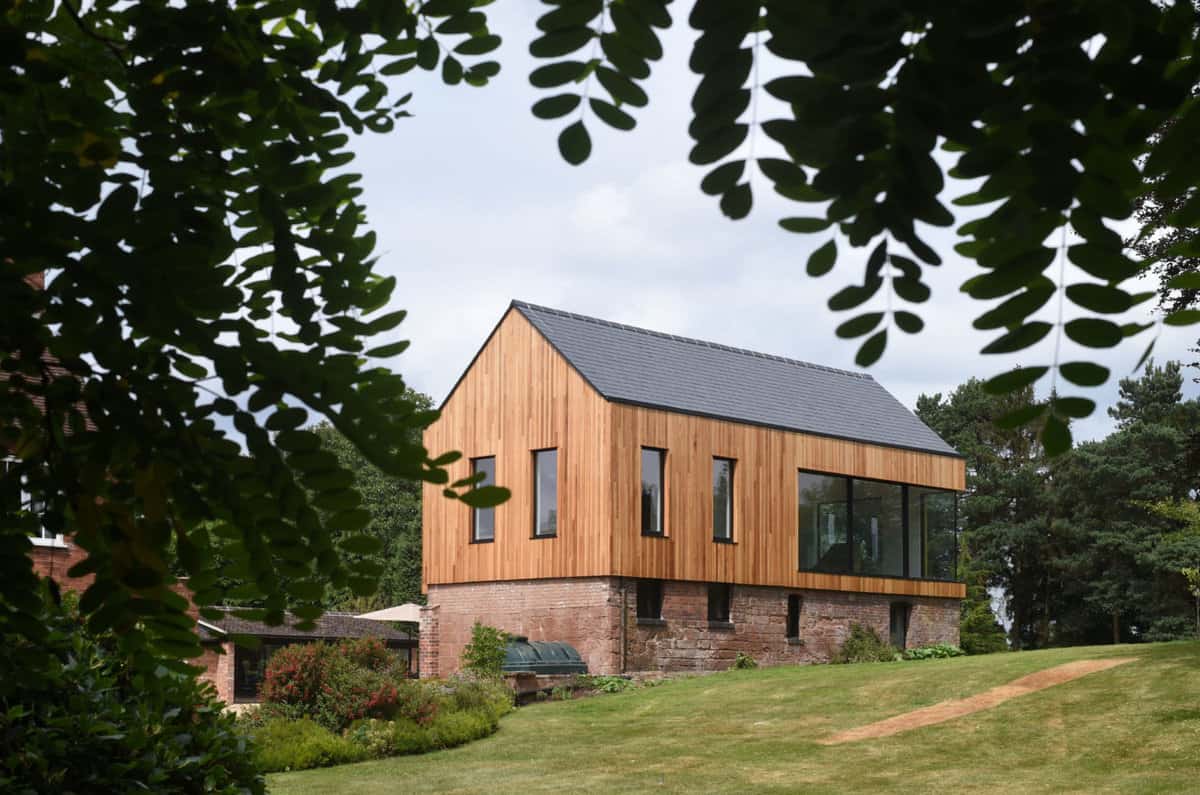 Respecting the original character involves understanding the building's historical context and architectural style. Ultimately, this means we apply attention to detail like no other, ensuring the look and feel reflect the spirit of the era whilst meeting the needs of modern living.
Renovating and restoring listed buildings isn't easy. But like any mountain to climb, we rise to the challenge. If you're considering buying a listed building to become your forever home, keep reading for inspiration from some of the projects we've worked on recently.
Chantry Road
We're experts in transforming listed buildings into forever homes. Take Chantry Road for example, based in a conservation area which requires permission for exterior alterations and working with tough planning rules. 
The house was in a poor state, so we renovated the entire building, maintaining and respecting all the original features. We also designed and built an extended kitchen and dining area where the key concern was creating a clear distinction between the traditional and modern. We created a clean, defined break with sharp changes in style, with a few traditional nods to achieve this. Some of the elements we incorporated into the extension include:
Maintaining & incorporating the original 19th century exterior within the design. 

Designed a standout kitchen island with a seamless silestone worktop to form the hub of the space and the focal point for the room.

Added solid matt-black steel-cage ceiling lights to contrast with the house's traditional lighting.

The large format concrete effect floor tiles differentiate the modern from the traditional.

Wooden slat wall panels soften the minimalist material palette and improve the acoustics.
Perry House
Developing a heritage home for modern living is no mean feat. Assisting Khoury Architects with the interior design for Perry House, a listed building in a conservation area, required sympathetic design and attention to detail.
From creating a new kitchen to transforming the old barn into a beautiful 2 bedroom annexe, this project had us effortlessly mixing modern and traditional design. Of course, listed buildings always bring surprises and call for innovative thinking.
At Perry House, a 30ft deep fresh water well was discovered under the floor in the new kitchen. So, how do you work around it? Incorporate it into the final design as a stunning feature. Some small details that were included in our work:
Used natural slate tiles to preserve the integrity of the original design, keeping the building in touch with its surroundings.
Incorporated concealed gutters as a mandatory part of Perry House's conservation to preserve the clean lines of the building.
Added cedar cladding to create a clear break between the lower-and-upper halves of the building, juxtaposing the heritage and modernised features.
The Joint Works
For the Joint Works, we designed a modern and flexible working environment from a derelict, crumbling grade II listed building. The designs for the 10,000 square foot historic building focused on revitalising and honouring the cherished historical elements whilst seamlessly integrating modern office & event facilities. The end result is a highly flexible & inspirational space for the creative industry with individual offices, a hot desk environment, large meeting rooms and a space for specific events.   
The restoration of the Joint Works required a focus on detail to ensure that we breathed modern life into a historic building which included: 
Window replacements & repair.

Reclaimed brickwork and stone works.

Lime pointing, coving repair and replacement, reclaimed paving. 

There was a large amount of bespoke joinery designed throughout to blend with the building and create the desired flexibility. 

The bathrooms continue the theme as the tile designs reflect the brickwork on the exterior of the building ensuring.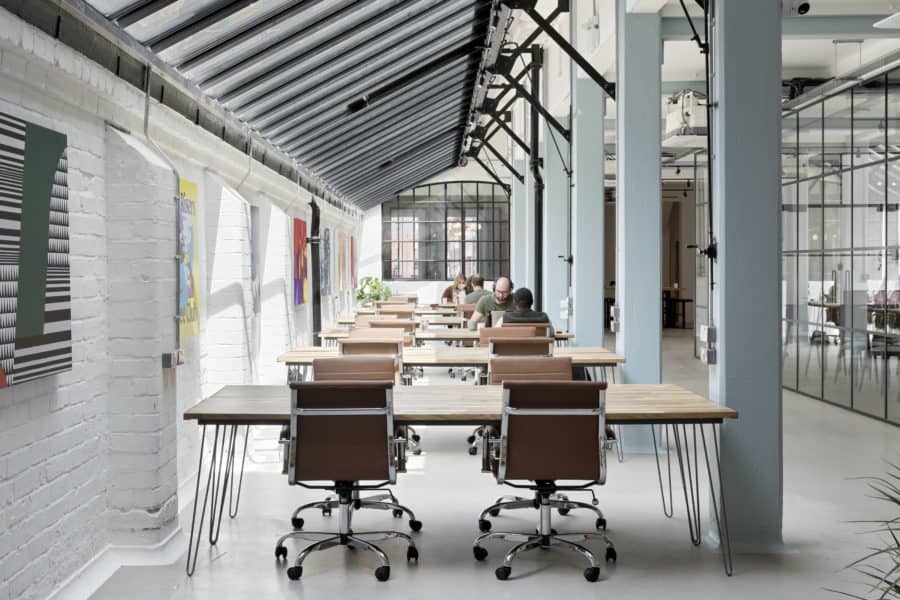 Want our help turning your ideas into spaces, and spaces into brands? Get in touch with us today to discuss your listed building and heritage homes now.