Designing a new headquarters for Birmingham's top media agency.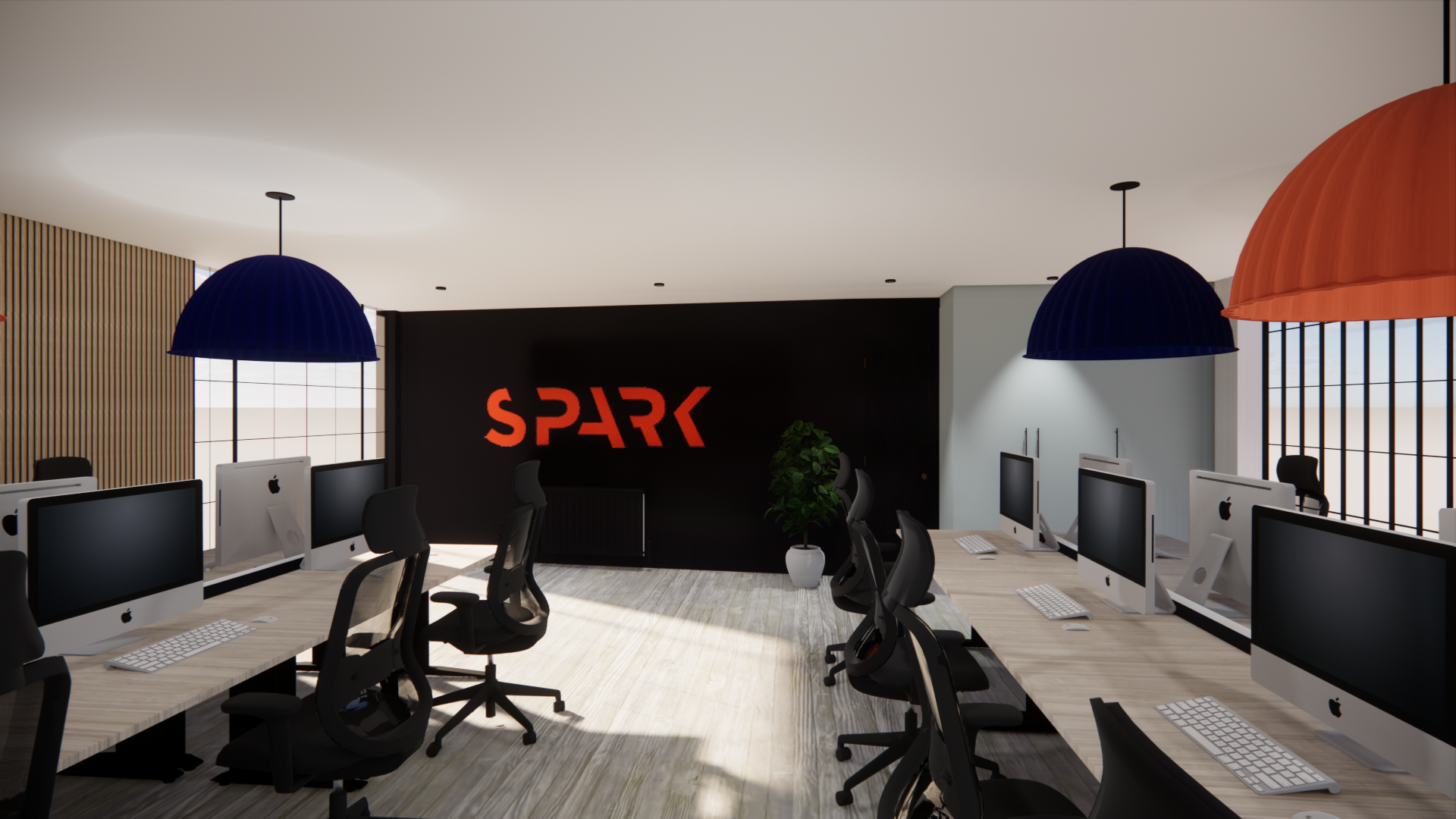 Back-lit orange Spark logo with black background for a striking first impression upon entrance.
Toilet door stained black to match brand wall for a seamless look.
Bespoke Cupboards for large photography stands and further equipment
Large acoustic pendants over the desks to absorb sound, one in a muted orange for a link to the brand.
Absorbent wooden panelling to help with office acoustics.
The Birmingham team at Spark Media are passionate storytellers, with talent across the spectrum of scripting, filming, cinematography, editing, colour grading, VFX and animation. We pride ourselves in producing compelling, enthralling, creative, high quality videos that drive emotion and response in the viewer.
The main focus of this interior design project was ensuring that the space was well-crafted and on-brand, but not overly so. The space needed to echo the Spark visual identity, so many elements of branding were included throughout the scheme. Upon entrance, a large back-lit orange Spark logo has been placed on a black wall for a striking first impression. Further throughout the scheme, subtle hints of the orange brand colour have been carefully incorporated to ensure the office space didn't become too obviously corporate. Orange acoustic pendants, orange glass wall lights in the kitchen, as well as a white tiled backsplash with orange grout are all examples of this.
With the existing hard flooring to be kept, we looked at using acoustic wood panelling with a felt back, which absorbs the sound along one wall, and then continued this up the full height of the stairwell which gave a great visual effect. Further to this, large acoustic pendants have been incorporated throughout, which introduces hints of colour throughout.
The existing kitchen was awkwardly placed and created a lot of dead space towards the back wall. We designed a fresh new kitchen with new cabinets, taps and tiles (to be grouted with orange grout as a subtle nod to the brand). We created a little snug area at the end for breaks and informal chats. Further poseur height seating was incorporated for lunches and idea generation.
The existing meeting room was only able to hold a maximum of 5 or 6 at a push, so taking out the existing glazed partition and replacing these with glazed sliding doors allowed flexibility to open up the space to allow for bigger meetings. Meeting tables are flip top and on lockable castors for ease of storage and flexibility.
Finally, the edit suite – one of the most important rooms – needed to be completely soundproofed for editing film and for client viewings. Using the acoustic wood-panelling for the full length of the wall and across the door from the meeting room we created a seamless look for viewing.
TV and speakers have been recessed in and LED strip lighting has been incorporated into the wooden panelling for client viewings when task lighting is switched off.
Project
Office Design & Build
What We Did
Design and build of a Birmingham-based film studio and editing suite.