Interior design and build work for iconic neighbourhood restaurant.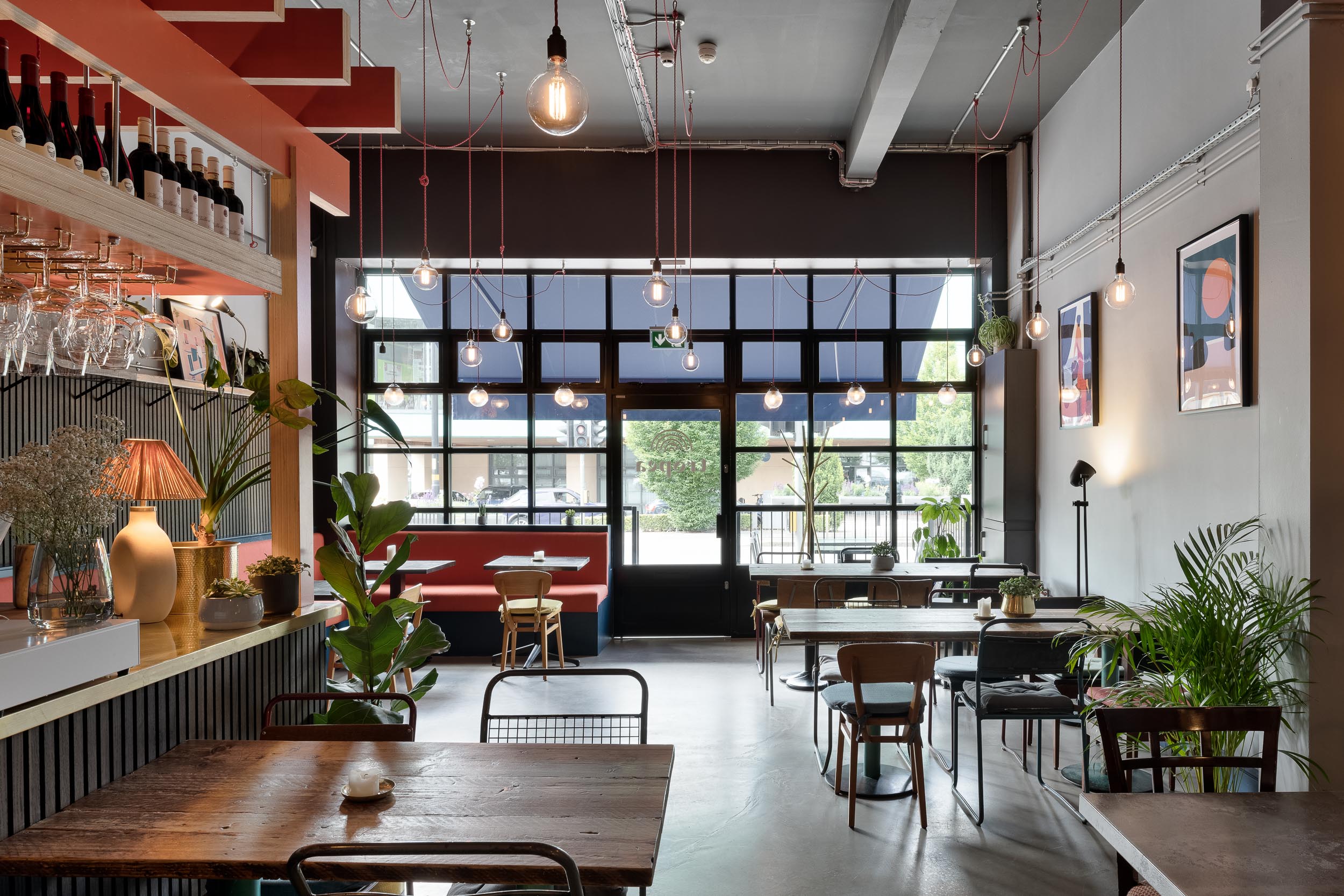 Acoustic panelling on bar frontage.
Pergola shortened and leftovers were used to create bespoke bottle storage.
Crittall style front windows.
New fitted banquette seating with bespoke storage.
Tropea has been one of our favourite places to eat since it opened it's doors in 2020. It was important we designed and built an interior that gave reverence to the quality of the food, but still stayed true to what it was, an un-pretentious neighbourhood Italian restaurant.
With an increasing demand on bookings, we needed to optimise the space to fit more covers, without making customers feel shoe-horned, and without creating pinch-points. With limited space, we were also tasked with the design and creation of more storage.
Firstly, we shortened the existing bar to create more space at the front of the restaurant. Using what we had to save costs, the existing pergola was cut down and the leftovers were used to create an overhead shelf for glasses and bottles. At the front of the bar, we built fixed seating to maximise covers and allow for flexibility for different sized parties. It was important that we used every bit of space more efficiently, so the cushions were fastened with velcro to allow access to the storage cleverly designed within the fixed seating.
In terms of the look & feel, we needed to echo the quality but also work with the existing (purposely) mis-matched furniture, zinc-topped tables and keep the relaxed, informal, unpolished vibe that Tropea's customers have come to love. It was also important we addressed the acoustics. With the majority of materials being hard, this meant the noise bounced around the room, making it hard for diners to hear each other. We used acoustic wooden panelling on the bar and behind the new bespoke fitted seating to absorb the sound. We then installed acoustic felt underneath the tables to dampen the decibels.
Moving onto the tired-looking exterior, we gave Tropea a complete revamp with a whole new Crittall style frontage, a new raised external seating area and awning to allow for more covers in the summertime.
*This entire build project was completed in two weeks.
Project
Restaurant Design & Build
What We Did
Design and build* of an Italian neighbourhood restaurant in Harborne, found in the Michelin guide.