Creating a design-focused eatery that stays true to it's Desi Pub roots.
You've heard the tale of the Desi Pub, haven't you? No? It's a Birmingham thing. When local pubs started struggling in the naughties, a few savvy locals thought they could revive them by removing the cheese rolls and KP nuts, and replacing them with curry and naan. This became a phenomenon, and now, Birmingham's Desi Pubs serve up some of the best food the city has to offer. Most of these pubs, however, didn't keep with the times, and a new, discerning generation of drinkers emerged, with a new set of experiential demands.
Enter the Tap and Tandoor, and you will notice that it's the first eatery of it's type to be design-led. It has nods to India, nods to it's brewery-owned forbearer and some truly individual elements.
Project
Bar Restaurant Design & Build
What We Did
A design-led Desi-Pub serving authentic Punjabi food and incredible ales.
With this project, we were blessed with a building that already had some stunning period features for us to work with. All we had to do was evolve the space to meet modern experiential demands, and add some well needed Indian generosity.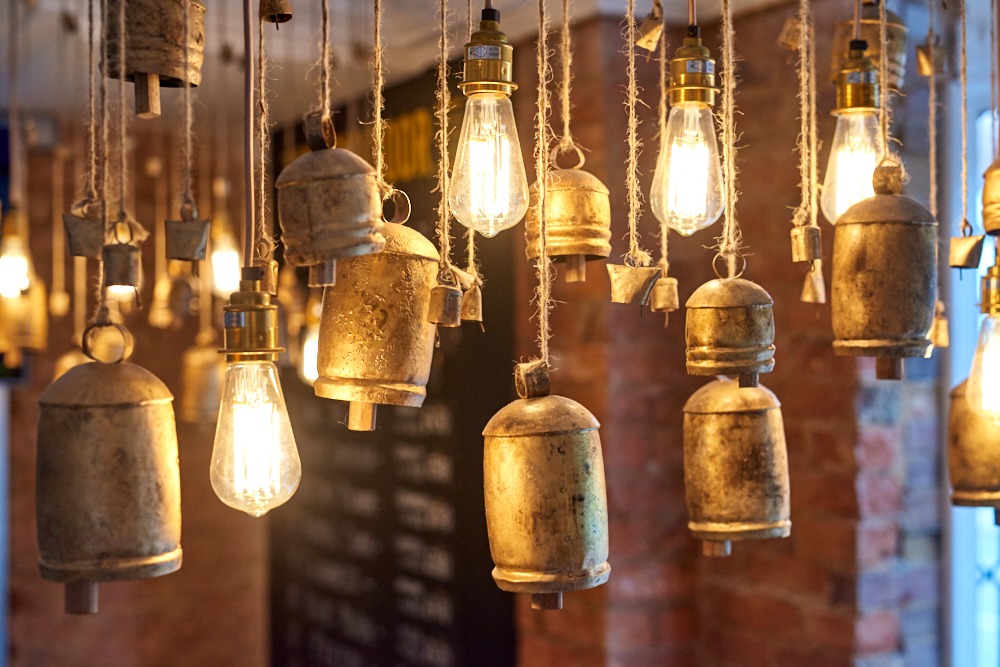 Bespoke lamps made from re-conditioned and polished Indian cow-bells.
Wood-panelled bar with vibrant blues and peaches.
Taps. bespoke and state of the art, ensuring that top-quality ales are delivered smooth and clean.
Back-bar and lights. More bespoke fixtures and fittings.
Brick. Keeping the original features of the pub was an essential part of the brief, nodding to the pub's brewery-built heritage.
Wooden stools, nodding to India and it's craftsmen.